We can offer interesting carrier solutions for current optical fiber networks, as well as xDSL solutions for superior quality requirements, such as those demanded by utilities (organisations with critical infrastructure). In addition to supplying products, our portfolio also includes optional services, ranging from concept development to turnkey projects.
Nowadays, access networks for broadband internet access of currently 1GE per subscriber, are currently created either via PON (passive optical networks) or AONs (active optical networks). There are advantages and disadvantages to both solutions. We can explain what these are while considering your own network, customer structure and requirement profiles. The access networks belonging to utilities, municipalities, transportation companies and railways (some of which are also categorised as having critical infrastructure) very often still have extensive copper telecommunications cable networks, which can still be used due to much lower bandwidth demands. Nevertheless, low latency, QoS, superior fail-safe operation and a greater temperature range are very often required, so we also talk about carrier Ethernet access in this case. .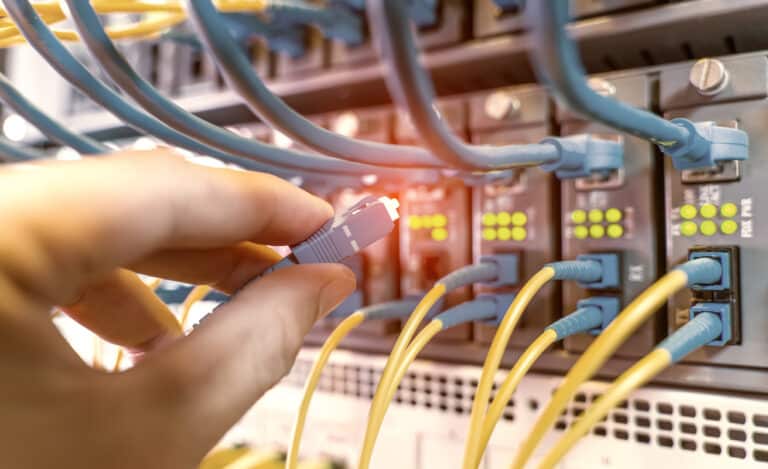 Low-cost broadband access for residential and commercial customers from 1GE to 10GE, scalable from small to very large networks.
xDSL transmission in optical fibre quality, SHDSL transmission with bonding up to > 50 km, VDSL2 transmission with bonding up to 500 Mbit/s.
Ethernet switches and routing switches for industrial use.
Multi-service platforms provide several services via the same physical infrastructure, therefore making operation easier.
Powerful xDSL solutions with bonding for professional applications.
We offer our customers and interested parties carrier Ethernet access solutions based on SHDSL and VDSL2 to deliver excellent network availability at flexible bandwidths.
xDSL/Ethernet First Mile (EFM)
Ethernet components for industrial applications often need to meet exacting requirements to ensure failsafe operation under tough conditions.
Industrial Ethernet network components on top hat rail modules are very often used, making fitting on a 35 mm rail quick and easy. Optical fibre is the preferred medium on longer transmission paths or heavy-duty connections, for example on an industrial campus. In areas on a similar industrial scale, such as energy and water utilities, or transportation companies, copper wire cables are often still in place, so a combination with xDSL technology is an interesting alternative. Depending on the application and requirements, our carrier Ethernet transport products are also ideal for industrial or industrial-scale organizations.
Telecommunications networks in critical infrastructure need to meet stringent demands in terms of availability, fail-safe operation, durability, and data privacy.
Nowadays, xDSL technology still enjoys very widespread use in the form of ADSL and VDSL with asymmetric bandwidths. Although optical fibre connections are now increasingly relevant in access networks, xDSL solutions are still needed.
The bandwidths for telecontrol transmission are usually much lower than for today's residential internet access. Therefore, SHDSL transmission technology, particularly with pair bonding, is often an interesting solution for some paths. In addition to transmitting Ethernet IP data, interfaces like E1 (G.703) and V.24/V.28 (RS232) are still sometimes required. Combining or integrating these interfaces into the xDSL modems is therefore one solution. There are also other frequent requirements, such as a greater temperature range, so that industrial Ethernet devices can also be used.